We Should Be Like Germany, But Not Really
February 17, 2012 § Leave a Comment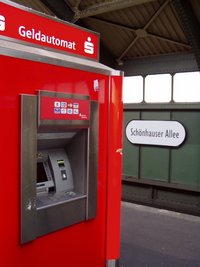 Earlier this week, Reuters published an article on German banking which, I'm sure, left many Americans yearning for its insular model. According to the article, Germany "[...] has 2,000 banks, while Britain has just 405, Spain 415, Italy 785, Ireland 590 and France 1,147, according to European Central Bank statistics." This large number, of course, has insulated the country's commercial banking sector from many of the problems that enveloped and, in effect, brought about the "nationalization" of almost all large commercial and investment U.S. banks in 2008. Due to regulatory matters, many of these smaller banks are left to exclusively service the local community and, thus, not leverage capital 30-1 while purchasing tranche after tranche of poisoned MBS paper. Or, as Reuters more succinctly puts it:
The prevalence of municipally-owned savings and customer-owned cooperative banks, the microbreweries of the banking world, ensures a steady supply of business loans, reducing the likelihood of a credit crunch and helping to protect Germany's coveted triple-A sovereign debt rating.
Unbelievably, this could have occurred in the U.S. If the federal government had not played matchmaker and backstopped the bleeding of our financial institutions, the smaller community-based banks would currently serve as our go-to commercial service providers.
The fact of the matter remains that we, the U.S. citizenry, would have been extremely hurt had more failures occurred à la Lehman. Yet, any rational person (see: those not filling government coffers or collecting from same) can realize that the certain implosion of Citi, Wachovia, and Bank of America would have created a tremendous opportunity for small, local banks to swoop in, purchase sound loans, and strengthen their services. Would there have been a long, lonely grace period where every financial institution and LLC or LP found itself extremely injured by this course of action? Certainly. Would the panic in the markets have been heightened for a prolonged period of time? Of course. Yet, we, as humans, remain highly adaptable to pain, suffering, and change, and the power of small markets would have eventually made things more palatable in the long run. In short, "high finance" would have been thrown back to the stone ages of 1960-1980, but the United States would have reacted in the most humane way possible: survival.
With that being said, in an ideal world, would it be advantageous for our regulatory powers to create a system based on local banking in order to mitigate the risks of another (eventual) financial "perfect storm?" Of course not. Germany's banking system looks sweet and pretty from across the pond, and we idealize the situation by imagining Jimmy Stewart batting his eyelashes at us through the plexiglass; however, that system is equally dangerous. Many local German businesses are unable to seek competitive loan rates simply due to their geographic locations. The beauty of competitive markets precisely remains in the fact that other businesses can draw customers through sheer competition. When a government regulates too heavily and tries to impose "fairness," the very idea of competition seizes to exist (beyond immediate boundaries).
Alas, the Reuters article inadvertently makes the case for economic cyclical asymmetry. Given a truly "free" marketplace, the sound loans held by the "big" financial institutions would have been swallowed whole by local markets, thus bringing about a sector similar to the German model. Eventually, other Citi/Wachovia/Bank of America models would have sprung, and a similar disaster to what we all experienced in 2008 certainly would occur. However, without the moral hazards that were effectively eschewed these past few years, how can one truly believe that our next blowup is more than a decade away?
Remarkably, the text above is not an argument for making the world more safe and sound, but rather for adhering to the regulatory system and economic model that the U.S. has promoted throughout the world for the last two centuries. It is unfortunate that our government sings the praises of cyclical markets while eschewing all opportunities to participate.
Analysis: Brewing Model Saves Germany From Bankers' Droop [Reuters]